One month into his journey, Laval has had his share of highs and lows.
As he ventures further across the Atlantic, Laval is reflective of his experience to date and attentive of day-to-day changes like less marine life sightings and less traffic near-misses. Battling personal struggles of boredom, negativity, and loneliness, he sends his latest update in memory of a lost loved one.
A few chance radio connections and a surprise visit from the Canadian Coast Guard become cherished moments; providing contact and connection that, taken for granted at home, is priceless at sea.
—
July 14, 2016
Here we are, one month on the North Atlantic.
I am sending this out one day early, as tomorrow marks two years since our son Richard died in a canoe accident in the Northwest Territories. Tomorrow will be a somber, sad day and I will be in no mood for sharing thru tears.
Am I one third thru this expedition? Perhaps, but the first third has seen the full spectrum of North Atlantic conditions presented to this little boat and I.
Since my last update there has been a real drop in the marine life sightings. A pod of porpoises and one whale, that's it. Have had two fish get thrown onto the boat in storms, one was pretty close to eating, well maybe snacking, size. Just not quite there yet in the hunger department. Would rather get a big one with my spear and then brag about it to Dr. Dono at Healng.com and Chad at Catch Engineering, two serious anglers (note the name of Chad's company).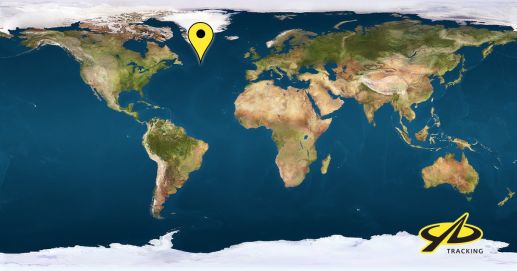 Watermaker still finicky, only made 400-600 ml yesterday, but will work on it later today if the conditions improve. I still have 10L of water in my jerry can at the moment.
Traffic near misses have also, fortunately, dropped off to zero, other than a Spanish fishing trawler five days ago, but we were in radio contact and aware of each other: "Jes, jes, iya thinks you had problems because you yust dreefting…" Nice guy, always nice to hear human voices vs only porpoises.
I also had a precious radio chat with a Newfoundland fishing boat, the Atlantic Gale, late one dark blustery night. I was running with a near gale and the Gale was 'just joggin along here' while fishing for snow crab. Just two men on a vast black ocean chatting. With only the orange glow of my radio panel illuminating my dark cockpit, we spoke of such things as: his fifteen winters working in the Alberta oil-patch with the summers spent fishing the Grand Banks, whether the cod were returning, could he make a living off the seas still, kids, and time away from family, etc. It reminded me of one of those CBC As it Happens interviews that seem to stitch together and connect Canadians across great distances from disparate regions, except it was just our two VHF radios connecting us – really a snippet of genuine Canadiana, will cherish it forever.
He signed off with: "Safe journeys bye, safe journeys bye and you call if you need anything, safe journeys, over." Thank you, same to you, and thanks for the talk, out.
Had a long few days of contrary winds, where I just sat on sea anchor and slowly drifted back toward Canada in strong east winds. Crammed in this tiny cockpit for days, requires that I sometimes have to dig deep to keep positive, as I slip back over hard won ground. Just like the watermaker takes the undrinkable and forces it thru a filter to make it drinkable, I need to take the unthinkably boring and force myself to filter out the negativity. It works, that depressing time is now 300 km behind me, and slipping further into the past.
Had a surprise visit from the Canadian Coast Guard ship, Signus, while I was drifting on sea anchor for those two plus days. Radio crackled to life on channel 16 with: "True Blue, True Blue, True Blue, this is Canadian Coast Guard ship Signus, how do you read over?"(maritime radio-telephony is bit different than my regular aviation radio work. With a maritime transmission you start initially with a call on channel 16 with: "You, You, You, this is Me" you then switch to a working channel (CH 16 is the emergency channel). They asked if I was ok and if I needed anything because they noticed I was just drifting thru the waves. I responded that I was okay, and then asked if they could give me a wind readout (direction and speed), she responded in a pleasant Atlantic Canadian accent: "Oh, I'd make it north by east at about twenty", to which I thanked her and then queried her on her location as my AIS showed no traffic anywhere. With a chuckle, she responded: "Just off your bow about three cables or so.." ( a cable is one tenth of a nautical mile, or about 185 m). Shocked at this, I jumped out thru the cockpit hatch and sure enough, the ship was right there directly in front of me. I responded that it was strange I didn't see her on my AIS, she replied: "Oh,  you won't see us on AIS". Which makes sense, that way they can patrol incognito. Comforting to know they were around.
Have had the roughest, wildest weather of the past month over the past two days. Gale force winds, tall breaking waves, and we suffered numerous knock downs thru the night. Meaning the boat was knocked completely onto her side, but fortunately always returned to upright. I had confidence in this boat, but far more now after what she got me thru over the past eighteen hours. Got soaked by a breaking wave over the deck last night as I was securing everything and that then meant crawling into a damp sleeping bag with wet clothes, and strapped my body tight to the cockpit floor, but didn't sleep much at all thru the night and was not too cold.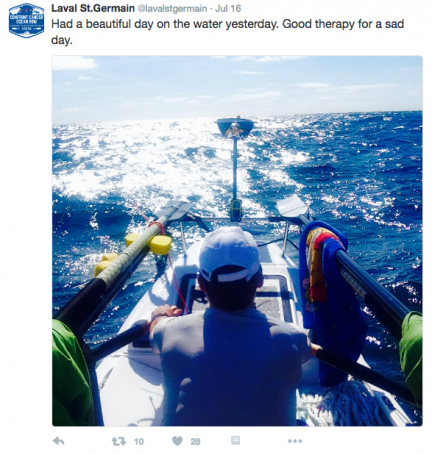 Jim tells me about five more days of nice brisk winds pushing me to France. He has also calculated the half-way point between Halifax and Brest. I put it about 655 km dead ahead. Jim will keep you all informed via his Twitter feed @JamesRedeker as I near this major milestone.
Thanks to Kirk Bailey for the news and current affairs updates and Dave Corner for the Tour de France updates. I'm sure Janet does not miss me sitting in front of the TV early every July morning watching Le Tour live from France cheering, cursing and generally not letting her sleep.
Janet has been providing me with lots of updates from Calgary, Andrea and Eric have been great about keeping in touch. Toughest part of the trip, missing those three.
Horrible milestone for our family tomorrow and we are deeply thankful to all of our family and friends surrounding us and holding us up thru our grieving for Richard. It doesn't get any less painful, we just dearly miss that crazy kid and it will be a tough tragic sad day for all of us.
If you took a few minutes to read this blog, can I please ask that you consider spending two minutes more by clicking on DONATEat www.lavalstgermain.com or www.confrontcanceroceanrow.com? You will be helping those people out there on their far more important difficult journeys, people with cancer.
The Alberta Cancer Foundation needs these donations, we all need to help.
Thank you all for following my journey and a huge thank you to all of my sponsors for helping me get thru the first month.
Laval
Sent from my Rannoch R10 solo ocean row boat from the North Atlantic.
—
Help Laval and the Confront Cancer Ocean Row team reach the goal of $200,000 benefiting the Alberta Cancer Foundation.
Share the message, send your tweets of encouragement to @lavalstgermain, and click here to donate: Confront Cancer Ocean Row.
Erin @ Battistella
July 25, 2018
At Battistella Developments, we have been HUGE fans of Beakerhead for years. Every September, they inspire the imaginations ......